Stalin (not) in Telavi
TBILISI, December 31 (RIA Novosti) – A statue of Soviet leader Josef Stalin was demolished on Tuesday in the eastern Georgian city of Telavi months after being vandalized, local media said. The three-meter-high statue, part of a World War II memorial, was commissioned by the local Stalinets social group and the Union of Veterans in September, but was vandalized with red paint hours after being unveiled. The vandals also wrote "Murderer," "Down with Stalinism!" and swear words on a nearby wall. The city municipality denied issuing any permission to install the statue and ordered it to be removed within five days. Activists said they were not going to comply with the administration's order and announced the start of a campaign to collect signatures in support of the statue. The authorities had to allocate about $400 from the city budget to eventually tear the monument down. Stalin evokes mixed memories in Russia and other former Soviet republics, particularly in his native Georgia. While being credited with leading Russia to victory in World War II and strengthening the country, he is also remembered for sending millions of people to death in concentration camps during the infamous purges of the 1930s, and for carrying out particularly savage repressions in the Caucasus, including Georgia.
and . . .
RFE/RL, December 31, 2013
A monument to Soviet dictator Josef Stalin has been removed in the eastern Georgian city of Telavi. Police were present during the monument's removal on December 31. Telavi authorities say the monument was placed near a World War II veterans' memorial in Telavi without official permission. The monument has been vandalized several times since it was first unveiled on September 1. It was made with money collected by the nongovernmental organization Stalinist and the Union of Georgia's Veterans. Stalinist's leader, Shota Lazariashvili, condemned the monument's removal, calling the authorities' decision "a shame." Telavi is about 110 kilometers from Stalin's birthplace, Gori, in central Georgia.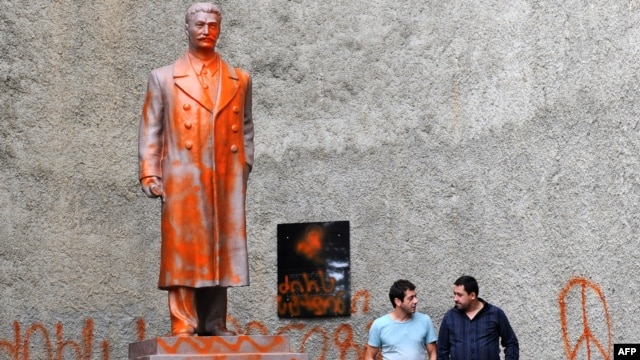 Copyright (c) 2012. RFE/RL, Inc. Reprinted with the permission of Radio Free Europe/Radio Liberty, 1201 Connecticut Ave., N.W. Washington DC 20036.